A safe sleeping environment means that all potential dangers have been removed and the baby is sleeping in a safe place. The ideal place for a baby to sleep is in a safe cot, on a safe mattress, with safe bedding in a safe sleeping place, both night and day.
Keep baby's cot away from hanging cords such as blinds, curtains, or electrical appliances as they could get caught around baby's neck. Keep heaters or any electrical appliances well away from the cot to avoid the risk of overheating, burns and electrocution. Never use electric blankets, hot water bottles or wheat bags for babies.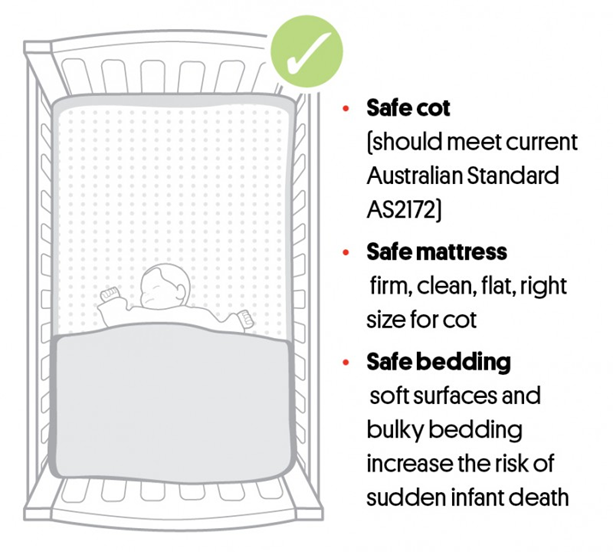 Safe sleeping tips:
1. Put babies to sleep on their backs
This is the safest position for healthy babies. Babies are more likely to die of SUDI including SIDS and fatal sleeping accidents if they sleep on their sides or tummies.
Once your baby can roll over (at around 4-6 months), keep putting your baby to sleep on their back, but let your baby find their own sleeping position.
2. Make sure babies' heads or faces can't get covered while they're sleeping
Put your baby low down in the cot, so their feet are near the bottom end. Tuck in the bed sheets securely so they can't cover baby's head. You could use a safe infant sleeping bag instead of blankets.
3. Avoid smoking
There's strong evidence that exposure to second-hand smoke harms babies, and that smoking during pregnancy and after birth increases the risk of SUDI including SIDS and fatal sleeping accidents. The link between SUDI and smoking is strong even when parents smoke away from their babies.
If you want to quit smoking and you're finding it hard, call Quitline on 137 848. You could also speak to your GP or child and family health nurse.
4. Use a cot that meets current Australian safety standards
Only well-maintained cots built to strict safety standards are good enough for your baby. Cots that meet the standard will have a clear label – AS/NZS 2172 for cots and AS/NZS 2195 for portable cots.
5. Share a room